How to grow healthier hair and have a healthier scalp!
By Nae Nae's Naturals founder, Nevadra Johnson
Ingredients you should avoid in your haircare regimen
"Nae Nae, What are the Seriously Dangerous Ingredients to Avoid?"
ISOPROPYL ALCOHOL:

You've probably seen this ingredient before and just figured it was ok because it is in so many things but here's the truth. Naturally, kinky or curly hair reacts very badly to this. It will dry your hair out and break it off! By the way, did you know that this stuff is found in your car's antifreeze? Why would you want to put THAT in your hair or on your skin?

MINERAL OIL & PETROLATUM:

This commonly used petroleum ingredient coats the skin and hair just like plastic wrap. The skin can't even release toxins and wastes properly through this "plastic wrap," which can cause acne and other disorders. Plus, it keeps oxygen out so that your skin can't breathe. Yes, Grandma might have used it but it was bad for her, too!

SODIUM LAURYL SULFATE (SLS) & SODIUM LAURETH SULFATE (SLES):

This is used in testing labs as the standard ingredient to irritate the skin. It makes no sense to have a known and proven irritant in your beauty products. It totally defeats the purpose doesn't it?

PEG:

PEG's strip away your Natural Moisture Factor leaving your immune system vulnerable. They can also potentially cause cancer.

FRAGRANCE:

When you see this, RUN!!! Many of the compounds in fragrance are cancer-causing or otherwise toxic. "Fragrance on a label can indicate the presence of up to 4,000 separate ingredients. Most or all of them are synthetic."
What we put on our scalp enters our BLOODSTREAM!
Our skin absorbs 60% of what we put on it!
PROPYLENE GLYCOL (PG):

This is the active component in antifreeze. It literally breaks down protein and cellular structure. Yeah, that stuff that your skin is made out of. The Material Safety Data Sheets warn against skin contact, as PG has systemic consequences such as brain, liver, and kidney abnormalities.

DEA (diethanolamine) MEA (monoethanolamine) TEA (triethanolamine):

Dr. Samuel Epstein, Professor of Environmental Health at the University of Illinois said "repeated skin applications of DEA-based detergents resulted in a major increase in the incidence of two cancers - liver and kidney cancers." John Bailey, who oversees the cosmetic division for the FDA said the the new study is especially important since "the risk equation changes significantly for children.

FD & C Color PIGMENTS:

Absorption of certain colors can cause depletion of oxygen in the body and even death according to A Consumer's Dictionary of Cosmetic Ingredients. Debra Lynn Dadd says in Home Safe Home: "Colors that can be used in foods, drugs, and cosmetics are made from coal tar. There is a great deal of controversy about their use because animal studies have shown almost all of them to be carcinogenic."

IMIDAZOLIDINYL UREA and DMDM HYDANTOIN:

These are just two of the many preservatives that release formaldehyde. According to the Mayo Clinic, formaldehyde can irritate the respiratory system, cause skin reactions and trigger heart palpitations. Serious side effects include weakening of the immune system and cancer. No Thankyou!

CHLORINE and FLOURIDE:

Exposure to chlorine in tap water, showers, pool, laundry products, cleaning agents, food processing, sewage systems, and many others, can affect health by contributing to asthma, hay fever, anemia, bronchitis, circulatory collapse, confusion, delirium diabetes, dizziness, irritation of the eye, mouth, nose throat, lung, skin, and stomach, heart disease, high blood pressure and nausea. It is also a possible cause of cancer.
How do I avoid ALL the bad stuff ?
I check ALL labels!
Always, always. . .
Read the ingredients on the label of any product

that you are interested in purchasing.
Many products boast that they are
"all-natural"

but their labels tell a different tale. The best way to protect yourself is to

check every label!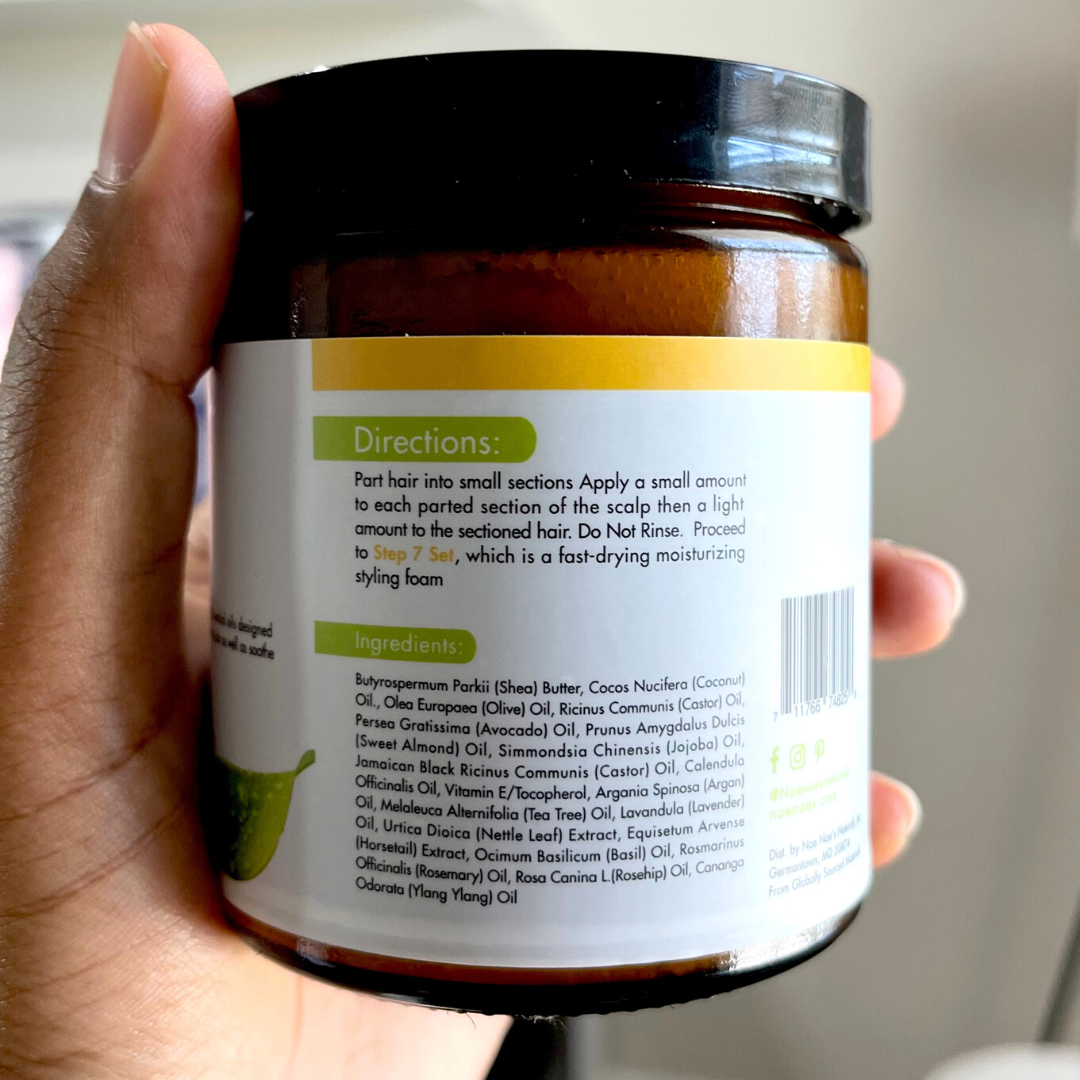 Check our label, we dare you!
I got tired of having to check EVERY LABEL when it came to my kids and their skin health, so I created a product that I could trust. I created my all-purpose hair and skin salve for moms who needed a REAL solution that was all about results without fillers or harmful ingredients!
I created my salve, Nae Nae's Hair Boost to help people like you, who were tired of products that were full of junk!
Hair Boost has helped my daughter's skin to heal from the severe eczema outbreaks she suffered with and it's helped my scalp to heal from extreme dryness and irritations while also helping my hair to grow fuller than it's ever been before!
Our formula contains 19 NATURAL ingredients
 in one balanced blend to treat your skin!
Our Hair Boost is infused with the following ingredients:
Shea Butter 

- Protect your hair from drying out, and helps to soften your hair

Coconut

 - Helps prevent dandruff; strengthen the roots to help prevent breakage

Olive

 - Helps to stop the shrinkage of hair follicle shafts.

Castor

 - High in Vitamin E, minerals, proteins, and Omega 6 and 9 beneficial fatty acids.

Jojoba

 - Helps facilitate the growth of new hair, stimulates blood flow to the scalp

Jamaican Black Castor 

- Helps reduce frizz promotes hair growth

Avocado

 - Helps strengthen hair roots, moisturize, detangle & good for heat-damaged

Sweet Almond 

- Helps control hair loss and thinning

Argan 

- Rich in antioxidants and essential fatty acids, promoting hair growth and thickness

Rosehip

 - Nourishes dry hair and prevents dandruff. High in Vitamins A, C, E, Fatty Acids 

Nettle Leaf 

- Good source of iron, potassium, calcium, magnesium, silica, and sulfur.

Horsetail 

- Contains the mineral silica which works to strengthen your nails and hair.

Vitamin E

 - Helps remove free radicals; natural antioxidant

Basil Oil

 - Seals around thinning hair follicles, act as a stimulant, revitalizes dull hair and skin

Rosemary

 - Stimulates hair growth when applied to the scalp

Lavender

 - Helps to disinfect scalp, and stop hair lose

Tea tree

 - Natural antioxidant which helps stimulate healthy hair growth

Ylang Ylang

 - Natural conditioning agent for your hair

Calendula Oil 

- Help heals irritated skin
How to use our Hair Boost on your scalp to soothe irritation and nourish your follicles!