Hair Boost is not just another oil or scalp treatment!
It's a specialized formula that harnesses the healing and nourishing benefits of the ingredients we carefully selected to care for your hair, skin and scalp.

There are many products on the market that claim to restore damaged hair, dry scalps and irritated skin, but many use fillers to thicken their formulas. We chose instead to use an all-natural solution that's rich with healing benefits and no added junk. Hair Boost can be used on wet or dry hair for added benefits as a leave-in conditioner or daily moisturizer for dry scalp or damaged, brittle hair.

Each jar is HANDMADE with LOVE and CARE. You can't find anything like this on the market TODAY! 19 ALL Natural & Organic Ingredients; 10 are essential oils. Our Special Formula is designed to strengthen, lengthen, and moisturize the hair as well as heal the scalp.
Warm Weather Shipping Notice: With all of our ingredients being natural and organic with no additives whatsoever, some melting may occur with our Nae Nae's Hair Boost jars while they are in transit if the temperature reaches above 76 degrees Fahrenheit (coconut oil's melting point). The product works exactly the same if this does occur--simply give it a stir and then pop it into your fridge, and you're good to go (once the product returns back to a cool room temperature).
How to use our Hair Boost on your scalp to soothe irritation and nourish your follicles!

What you put on your scalp enters your BLOODSTREAM!
Your skin absorbs 60% of what you put on it!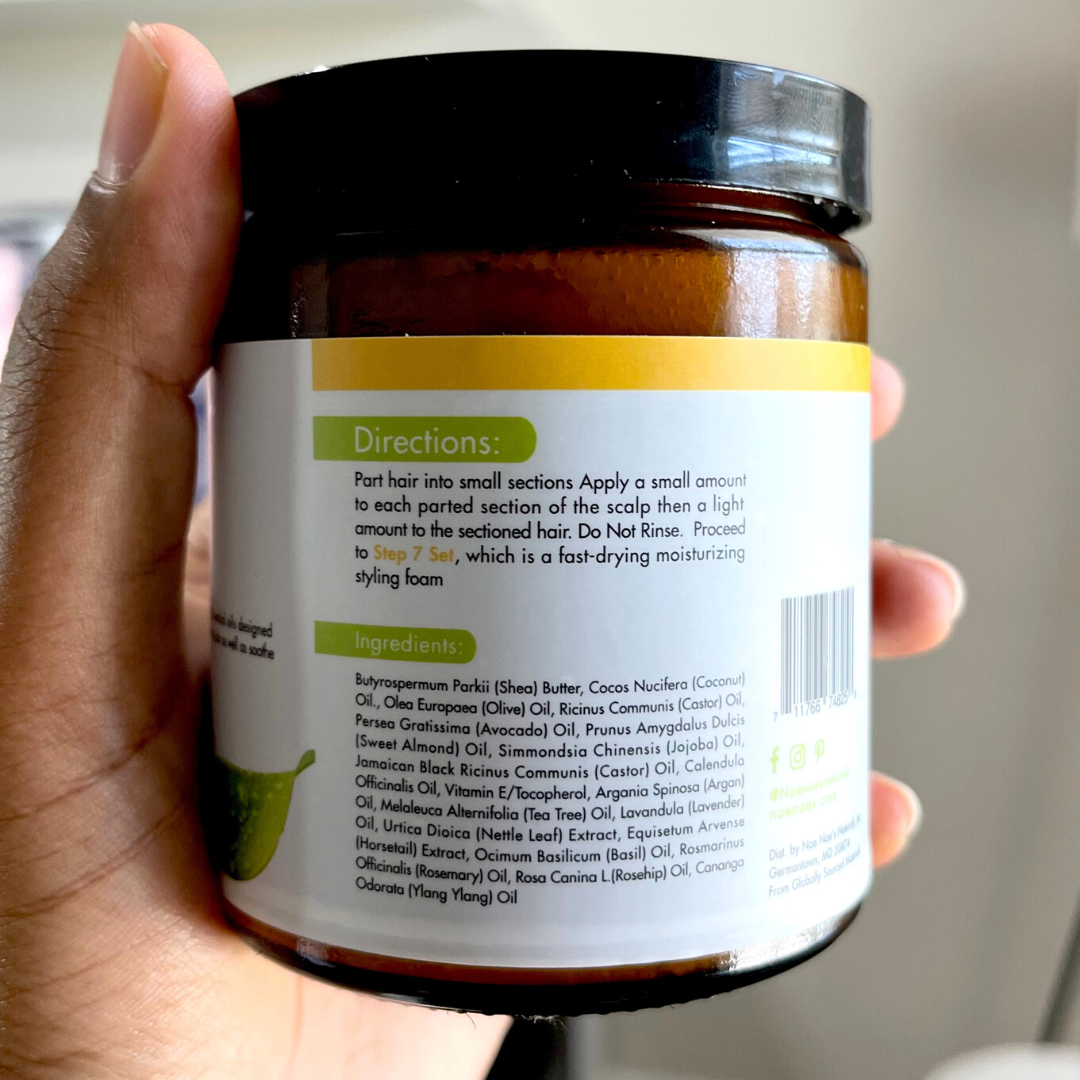 Check our label, we dare you!
I got tired of having to check EVERY LABEL when it came to my kids and their skin health, so I created a product that I could trust. I created my all-purpose hair and skin salve for moms who needed a REAL solution that was all about results without fillers or harmful ingredients!
I created my salve, Nae Nae's Hair Boost to help people like you, who were tired of products that were full of junk!
Hair Boost has helped my daughter's skin to heal from the severe eczema outbreaks she suffered with and it's helped my scalp to heal from extreme dryness and irritations while also helping my hair to grow fuller than it's ever been before!
Our Hair Boost is infused with the following ingredients:
Shea Butter - Protect your hair from drying out, and helps to soften your hair
Coconut - Helps prevent dandruff; strengthen the roots to help prevent breakage
Olive - Helps to stop the shrinkage of hair follicle shafts.
Castor - High in Vitamin E, minerals, proteins, and Omega 6 and 9 beneficial fatty acids.
Jojoba - Helps facilitate the growth of new hair, stimulates blood flow to the scalp
Jamaican Black Castor - Helps reduce frizz promotes hair growth
Avocado - Helps strengthen hair roots, moisturize, detangle & good for heat-damaged
Sweet Almond - Helps control hair loss and thinning
Argan - Rich in antioxidants and essential fatty acids, promoting hair growth and thickness
Rosehip - Nourishes dry hair and prevents dandruff. High in Vitamins A, C, E, Fatty Acids
Nettle Leaf - Good source of iron, potassium, calcium, magnesium, silica, and sulfur.
Horsetail - Contains the mineral silica which works to strengthen your nails and hair.
Vitamin E - Helps remove free radicals; natural antioxidant
Basil Oil - Seals around thinning hair follicles, act as a stimulant, revitalizes dull hair and skin
Rosemary - Stimulates hair growth when applied to the scalp
Lavender - Helps to disinfect scalp, and stop hair lose
Tea tree - Natural antioxidant which helps stimulate healthy hair growth
Ylang Ylang - Natural conditioning agent for your hair
Calendula Oil - Help heals irritated skin
WHEN TO USE
You can use our Hair Boost daily to resolve scalp concerns such as dryness, dandruff, some irritations and more! Our Hair Boost is also perfect for use on the skin of the body for dryness as well!
INGREDIENTS YOU'LL LOVE
Shea Butter

- Protect your hair from drying out, and helps to soften your hair

Coconut

- Helps prevent dandruff; strengthen the roots to help prevent breakage

Olive

- Helps to stop the shrinkage of hair follicle shafts.

Castor

- High in Vitamin E, minerals, proteins, and Omega 6 and 9 beneficial fatty acids.

Jojoba

- Helps facilitate the growth of new hair, stimulates blood flow to the scalp